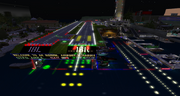 AK Rommil Airport & Marina (ICAO: SLRM) is a dual-runway, public inter-regional airport in the northern-east coast of Satori .
Region: Alvensleben
Owners: Robert67 Soulstar, Mara Klaber, Agatha McMahn
Officer:
CTAF: 129.375 
ATIS: 119.95
Ground: 121.625
Approaches: RW18R, A1, H1 
LANDING ADVISORIES
Elevations advisories: AK RomMil Airport has two north-south runways both are paved and lighted for takeoffs and landings.
Runway 18R is the landing runway, 256 meters long with a designed northern approach and a runway elevation of 46 meters. Minimum recommended approach is 60 meters.
Runway 36R is the takeoff runway with a designed south to north takeoff and a runway elevation of 46 meters.   
The primary takeoff and landing runways as well as whole RomMil Airport is built for continuous low-lag status. Pre-landing flyover to cache objects should be considered. Ground textures are 9 only.
No weapons and battle activity are allowed.
FACILITIES AND SERVICES
Public rez allowed. Auto-return set to 45 mins.
Aviation Fuel Station (DSA, Dani's and Terra) at gate 2. Helipads and Blimp landing area on tower A.
Tri-color visual approach slope indicator (VASI).
Lighted paved runways and taxiways.
LDA RWY 18R string for Dani Airplanes HSI Hud: AK RomMil Airpor|South|<290000.300000,268031.300000,44.789060>
Fire Department + SAR + Guardia Costiera
110 Dummies not present until someone enters into their range of 20 meters, in this way pilots landing using a high draw distance won't be affected by loading all their textures and mesh.
General facilities
1 Mid-sized terminal building with:

x3 gates (x1 public, x2 rental).
x11 helipads (x1 public, x10 rental) on Tower A.
x1 public airship dock on Tower A.
Waiting lounge at 2nd floor on Terminal A.
x12 airline check-in desks

x1 Control towers (active elevators)
LandMaster Score Analyzer System and Scoreboard on Tower A
Marina.

x16 Rental boat slips;
Marina Dance Club.

Teleport board to all areas.
Airport beacons.
Free jetski, hovercraft and car rezzer.
AIRLINES
Friendly Tours and Stuff Club (headquarter)
Heaven elliecopters
Santor's Airflights
Scardorough Air
Star Airlines
IMAGES