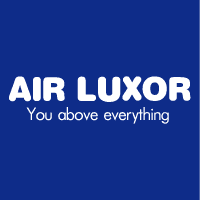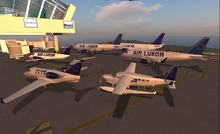 Template:Infobox airline PAGE UNDER CONSTRUCTION

'AirLuxor (ICAO: ' / IATA: / Call-sign: ) is a non-commercial virtual air company in Second Life®. The airline was founded by Pheaton Philbin in and travels to destinations in and around Satori, Nautilus and the Blake Sea .
Overview
AirLuxor was established in and is a non-commercial airline.
About Us
We take great pleasure to be available to passengers from all walks of their Second Life, for Regional and Intercontinental flights.
Owner Manager Pheaton Philbin Pilots: Kentrail Hughes Jay01 Resident Rain Lion
Destinations
Airports in Second Life® served by AirLuxor:

BLAKE SEA

SATORI

NAUTILUS
Pukalani Airport
Legion Airport
Fleet
As of November 2016, AirLuxor operates the following aircraft:
Dani Aircraft:
D120 Embraer Brasilia,
D170 Embraer,
D300 Embraer Phenom,
D318 Airbus,
D737 Boeing,
Grand Caravan,
D109 Chopper.
Mc Keenan:
BAE 146
Boeing 757