Archerfield Aerodrome (ICAO: SLAL) is a public airfield and marina occupying the 'Spurness' region of southern Jeogeot. The airfield is part of the Jeogeot Gulf.
Landing Advisories
Ban lines to the south and west of the airfield.
Runways are elevated above 66m.
Plenty of space south of airport for TOGA and circuits.
Commercial airliners and Aircraft with a wingspan larger than 30m are not allowed.
Background
Opened in March 2016, Archerfield Aerodrome (formerly Archerfield Landing Strip) is a public airfield and marina built in the 'Spurness' region. The facility is equipped with two grass runways, a re-purposed shipping container FBO, fueling facilities, helipad, and a marina. The Airfield and Marina were built out of a cliff side which overhangs the southern part of the Jeogeot Gulf.
In September 2017, the Airfield had a major design change which consisted of new Asphalt Runways, Taxiways and Apron, as well as Runway 07/25 being replaced with 09/27.
Airlines
No airlines actively operate out of the airfield. Contact the airport Authority for infomation.
Facilities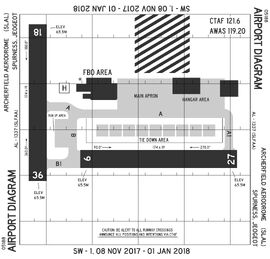 Pilots' facilities
FBO with traffic monitoring equipment.
Helipad.
General facilities
Marina for watercraft and Seaplanes.
Retail showroom with Vendors.
Arena Aviation Flight School.
Images