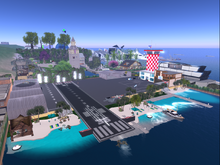 Callsing SLAR is located at Barres sim and associated with Unity. The airfield was created with the airline passenger on mind. So you can found there two basic areas. One for passengers other for operations. For passengers we have a terminal with different airlines desks, a little port and a beach with dance machines, places for sunbathe and cuddles. Also rezzer for a boat or jetski for to take a tour in the area.
The operative area have 126 x 20 meters runway (ideal for small and medium planes) with lights for night, two planes can operate at same time at platform, a lot of space for to operate. Autoreturn is setted for 30 minutes. Fuel stations for Dani airplanes, DSA and onther just for role play. Display where the pilots can see the script count and memory usage. Passengers in excess can be advert in auto mode. Also have six hangars and one is for Shop. The SouthEast corner is reserved for Seaplanes parking.
This Airfield have a Flight School for classes in English, Spanish and Portuguese. For other languages we can use translator.