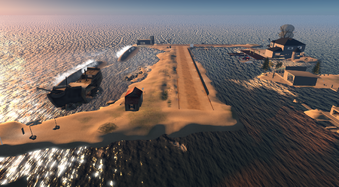 Aspera Airfield (ICAO: SLAE) is a single-runway public airfield in the SH 9 region of north-eastern Blake Sea.
Landing Advisories
Edit
Landing Advisory: Runway is unmarked and unlit.
Background
Edit
Opened in 2016, Aspera Airfield is equipped with a 180m x 14m unpaved landing surface. At the north end of runway, a 70m x 16m pierced steel planking (PSP) apron is available for rezzing or parking. To the east, south and west sides of airfield there are scenic beaches, in theme with the SH (Snug Harbor) estate that the airfield serves. To the north-west of the runway is a vintage-styled building with a small control tower and an airfield old cafe, furnished of dance machine and photographic studio. West of runway, a dock is available for seaplane and boat mooring; seaplanes can also use the water landing surface on the east side of runway.
There are no airlines that maintain a presence at Aspera Airfield or operate scheduled services to and from the facility as of September 2016. Other non-scheduled charter flights may be available on request. Please contact airlines for more information.
Facilities and services
Edit
Pilots' facilities
Edit
Fuel pump (Dani fuel).
Taxi lights.
General facilities
Edit
Control tower.
Airfield cafe "Lonely pilot".
Beaches
x1 boat/seaplane dock.
Helipad on water near cafe