Tumansky Heavy Industries (abbreviated to THI) is a manufacturer of vintage military aircraft and vehicles (c.1925-1945) in Second Life. The company was founded in 2006 by computer games professional, Karl Reisman. Originally based at 'Blacktail Ridge' in Sansara, THI moved to Wright Brothers Regional Airfield, Jeogeot in 2014. The company mascot is a violet furred, cartoon wolf, named Count Viktor Sergeivitch Tumansky.
Background
Origins and scripting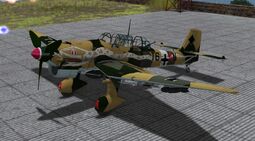 Tumansky Heavy Industries was founded in April 2006 and initially operated out of the Flyin' Tails sim. The company built several static, prim-based, aircraft prior to their licensing of Vulpine Aerospace's flight script, which animated THI's aircraft for several years. Due to his interests, Reisman emphasized historical aircraft, primarily from the Second World War, but in a concession to the "pulp" sensibilities of Dogfight Island, he also produced designs reminiscent of the "Crimson Skies" franchise (eg. the PF-01 Series). Following the arrival of scripter Creem Pye in 2007, and starting with their JU 87 Stuka, THI aircraft adopted a new dynamic flight script which took advantage of Second Life's Havok physics system. Scripting advances continued during 2007, as Pye, Reisman, Mifune Thibaud, and Whitewolf Mumfuzz collectively developed a successor to the Terra combat system (TCS). The open-source project, eventually called "Vehicle Infantry Combat Environment" (VICE), was adopted by THI and quickly became the de-facto standard of vehicle combat systems.
Sculpted prims introduction
With the introduction of Sculpted Prims (Sculpties) circa 2007, THI invited Duke Elliott to join the company and he enthusiastically embraced the technology, using SLoft to make his signature Hurricane, and P40 Warhawk. Reisman was more measured in his adoption of Sculpts, first using the technology to enhance earlier prim builds such as the BF-109E, and adding sculpted landing gear to the Stuka. Even Creem Pye, a scripter, made use of SLoft to make an F4U Corsair which proved to be a top seller for the business. THI's last prim/sculpt Hybrid, the I-16 was released on late 2010, and Karl's first fully Sculpted plane was released in early 2011, the Ki-27 "Nate" (made with Maya 2010, with a few pieces in sculpt Studio).
Changes and collaboration
In 2009, Creem Pye left Second Life for professional reasons, and there was a long hiatus in which only sculpted hats and helmets were released. In late 2009, early 2010, there began a new phase of THI's life as Aeon Voom of Amok Dynamics took over scripting duties. In Late 2010 and early 2011. Amok Dynamics, THI, Darsh Lucero Meccanica (DLM), East West Industries (EWI), and PROTEC, joined together to form Global Dynamics Technologies S.A. in order to share talents and resources to produce more product for each other. The GDT S.A. initiative has since faded but is helped the other creators work effectively with each other. As of 2015, THI and Amok continue to share labor, making and releasing products for each other's product lines.
Mesh Introduction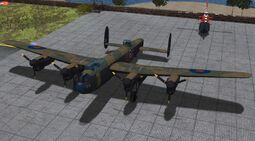 With the adoption of Mesh technology in Second Life, the business was able to leverage Reisman's abilities with Autodesk's Maya 3D modelling software to the benefit of THI and Amok, increasing the pace of product releases. Sculpties were gradually phased out, with Seb Serenity's Lancaster Bomber being the last, but also the largest and most script complex, sculpted aircraft THI had released to date. Its arrival heralded a new line of tactically useful bomber aircraft for SL aviation combat. After collaboratively developing Wright Brothers Regional Airfield in the 'Jadu' region of north-western Jeogeot, Reisman established a new showroom for THI at the facility in 2014. Since that time, THI has continued to produce vintage mesh aircraft.
THI Personel
Karl Reisman, CEO.
Aeon Voom, Chief Scripter.
Duke Elliott, Senior Builder (semi-retired).
Creem Pye, Fomer Chief Scripter Retired.
Arrekusu Muromachi, CEO of Vulpine Aerospace and former Chief Scripter.
Kisune Perth, Former Scripter.
Custer Winston, Land Manager (retired).
Zell Christiansen, Sales and vendor operations.
Aircraft wingtips, Logistics and Vendor installation.
Further reading
Trending pages
All items (12)