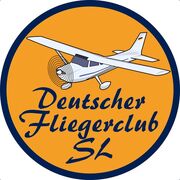 Deutscher Fliegerclub SL (translation: German Aviators Club, DFCSL) is a group for all residents who are interested in flying in SL. The member of the DFCSL learn together new things about aviation, meet and fly together, look at new aircrafts, go parachuting and skydiving or share new paints for their aircrafts. Also they create group paints for many aircraft, all for free!
Welcome are all residents, but its a german speaking group, speaking and understand a little bit of this language will be very helpful. Also welcome are people who will only fly as passenger or in the copilot seat. Its not necessary to own a aircraft.
Group paints are available for the following aircrafts:
Beechcraft Debonair (DSA)
Antonov AN-2 (Adventure-Air)
Junkers F 13 (Adventure-Air)
More will follow!
To join the Group, users are encouraged to use their Second Life viewer's search function to find the "Deutscher Fliegerclub SL" group, or alternatively paste the following URL into their local chat and click the resulting link:
secondlife:///app/group/2c1477d0-57dd-9d54-cc4c-c783c01b5f69/about