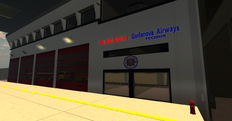 Fire Dep. Gorlanova (GA-ARFF)
Category: Airport fire dep.
Region: Gorlanova.
Continent: western Satori.
Background
Fire Dep. Gorlanova had their base in Gorlanova Airport (location was below the main platform); the airport also had a First Aid room into the terminal. The Fire Department was disbanded when Gorlanova Airport closed in 2016.
Staff
The staff in this Fire station consisted of:
Chief Fire Officer
Firefighters
Equipment
The equipment in the Fire station consisted of:
Astaro TPF-2 Tanker
Astaro TPF-1
Astaro TPF-3 Ladder
The facilities in the First Aid room consisted of:
waiting room
patient room
examination room
2 medicalized ambulances
Images