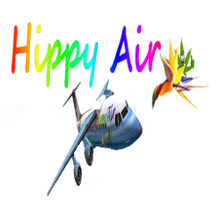 HIPPY AIR Call-sign: Hippy Air) is a virtual travel company in Second Life ®. Hippy Air is owned by paganshadow resident. It serves the Second Life® grid with travel between all airports across all the mainland continents.
Overview
Hippy Air comes under the Hippy Travel Services banner providing Passenger and Air freight services to Satori, Nautilus, Blake, Corsica, Sansara, Heterocera Bellisaria & Jeogeot continents.
Our passenger services include holiday flights and sight seeing tours by Air, Sea, Underwater and by Road. Contact us with your requirements
Freight services run mainly through the GTFO game and we also deliver transferable items from one SL resident to another. Contact paganshadow resident for delivery & contract details
Locations
Crew
Positions currently open - Contact Gem in world at Hippy Air Headquarters
Pilots
Bush Pilots
Cabin Crew
Ground Crew
Tour Guides
Bus Drivers
Submarine Drivers
Train Drivers
Travel Agent Office Staff
Destinations
Flying to most airports on the following continents. Link services and onward travel available to remote locations
Belliseria
Blake Sea
Corsica
Heterocera
Jeogeot
Nautilus
Sansara
Satori
Fleet
Cargo Fleet
Passenger Fleet
McKeenan Aviation  Dragonfly
McKeenan Aviation  Stratus Airship
Anaconda Explorer Submarine
Photos
Schedule
Flight rules for passengers
Passengers are requested to remove all unnecessary scripts and are reminded that the pilot is at liberty to refuse to transport any passenger - for any reason.
Passengers need detach AO, scripted hair, any devices for flight or other type; maximum scripts: less 5.
Passengers need revised your ARC (Avatar Rendering Cost); for that use this botton combination: Ctrrl + Alt + Shift + C. Need be less 500 (or in green colour).
Passengers follow the pilot instructions in case of crash in the sea, and start the emergency protocol request to the coast guard services.
Community content is available under
CC-BY-SA
unless otherwise noted.