Palm Grove Airfield (ICAO: SLPG) is a public coastal airfield in the 'Meewalh' region of southern/central Corsica. The facility operates over two levels - a ground airstrip and a floating landing surface serving the lantern village above.
Landing Advisories
Private property advisory (respect the owner rules): arrival by appointment strongly urged via group chat 119.200 Mh Blake Sea Control Area or via Kelly Shergood map flight plan.
Short runway advisory.
Secondary landing surface at 235m. Minimum recommended approach 245m.
Background
Palm Grove Airfield is situated on the southern coastline of Corsica, at the foot of the central Corsican mountain range. The facility is equipped with three runways - one at ground level (150m x 30m) and two floating 235m above (100m x 30m & 180m x 32m).
At ground-level there is also a lighthouse, airfield office, inlet with docks, greenhouse lounge, two helipads, seaplane docks, private residence, refueling station and an Island Gazebo.
The floating airstrip is surrounded by a lantern village designed by Elicio Ember, famed builder of Titans Hollow, Fantasy Fair 2013. The two levels are linked by teleporter.
One of the most attractive places in the area is the highway that runs through Corsica called "Circuit La Corse."
From the center of Corsica to the east is a good area for car racing, passing through mountainous areas (up to 160 meters), through residential areas, and almost 30 km of roads. At the intersection before the airport is a Linden Public Works Rez Zone, where you can rez your best car or your fastest bike and see what it can do.
In this
page
of the SL wiki you can find more information.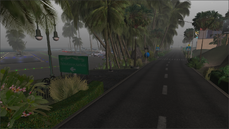 Airlines
The following list includes all scheduled services to and from Palm Grove Airfield, as of August 2015. Other non-scheduled charter flights may be available on request. Please contact airlines for more information.
Facilities and services
Pilots' facilities
General facilities
Marine vehicle docks.
Seaplane docks.
Adjacent Circuit La Corse road course.
Images