This is a historic article about an airport which no longer exists or has been replaced.

Prague International Airport (ICAO: SLPG) was a large dual-runway public airport spanning the 'St Diabloux', 'Avignon' and 'Croix' regions of north-eastern Satori. The coastal regions once occupied by the airport have continued to intermittently host aviation facilities.
Landing Advisories
Elevation advisory: Runway 09/27 located at 48m elevation. Minimum recommended approach 60m. Runway 13/31 located at 62m elevation. Minimum recommended approach 72m.
Background
In 2010, Prefabrica constructed Prague International Airport on the outskirts of the Blake Sea, in the 'St Diabloux' region. The airport was intended as a general aviation zone with access to the ocean and main Blake Sea air routes. By July 2011, Prague International had grown from a 1/3-sim runway to one of the largest aviation locations in Second Life, stretching across three regions ('St Diabloux', 'Avignon' and 'Croix').
At its height, the airport featured two ocean attached runways, aircraft parking facilities, a flight school, public marina, and plenty of space for taxiing and other flight operations. There was also a residential area attached to the airport (the Rabbit Lights fly-in community) with houses for rent, each with a private hangar or open parking space, all attached to the main area via network of taxiways.
After operating for several years, Prague International Airport was shut down and dismantled in mid-to-late 2013 and was replaced by the Blake Sea Airport. Prefabrica would continue to maintain a trading presence in Second Life, but this decision marked the end of their active involvement in Second Life aviation.
Airlines
There are no longer scheduled services to and from Prague International Airport, as of July 2013.
Facilities and services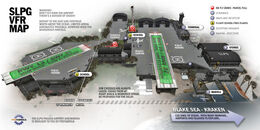 Pilots' facilities
General facilities
Mid-sized terminal building with:

Shops/vendors.
Passenger waiting lounge.
Aviation maps.
ATC tower.

Flight school.
Marina.
Rental hangars.
Residential area.
Images
See also
References