This is a historic article about an airport which no longer exists or has been replaced.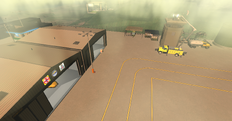 RAF Search & Rescue
Category: emergency station base.
Region: Avignon.
Continent: north east Satori.
Background
RAF Search & Rescue have their base within the Pacific Fleet Air station. The facility provides a few helipads for use in case of emergencies, as well as a military hospital (which is made available by owner for use in RP public emergency simulations). The military base has also a Fire Department.
Staff
The staff in this station is:
4 rescuers
1 medic
part-time staff
Equipment
RAF Search & Rescue's equipment found in this station consists of:
Hospital
reception
patient room
X-Ray room
Fire Department
Astaro TPF-4 Ambulance Priority
x2 HD Airport 6000 Aerial
Images