Rainforest Airfield (ICAO: SLAC) is a small, general aviation, regional, single-runway public airport in the 'Frasier Island' region, south Blake Sea.
Landing Advisories
Elevation: 22 meters, minimum approach to 40m.
Short runway & wide wingspan advisories.
Mount Cooper (el. 100m) is directly to the south.
Slow rez advisory: Due to the large amount of foliage near this location, this airport may take longer to load than many. Pre-landing flyover to cache objects is strongly recommended.
Background
Rainforest Airfield is a simple airport with a single dirt landing strip (170 x 18 m); it has a small marina with a cafe and a terrace in the tropical theme of the area. The field is in the heart of the Rainforest estate with its many activities and points of interest.
In August 2015 the field's name was changed from SCS Airport to Rainforest Airfield.
In March 2017, the field underwent major improvements. The runway was lengthened and moved to a North/South orientation. Additional hanger space and tie downs were added and the apron widened. A terminal and cafe were built and a seaplane ramp was installed along the southern shore.
Airlines
Currently, there are no scheduled services operating to or from Rainforest Airfield, however charter flights may be available on request. Please contact airlines for more information.
The following charter lines operate from Rainforest Airfield:
Facilities
Pilots' facilities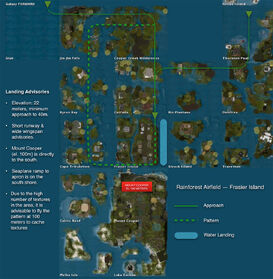 Public rez zone (30 min apron - 1 min runway)
Visual Approach Slope Glide Indicator (VASI)
x1 public helipad
Seaplane Ramp
LandMaster Scoring
Water landings parallel to and east of the runway
ILS Data
ILS Data for Dani HSI Indicator: Fraiser Island -|South|<292547.400000,265906.600000,22.72051>
ILS Data for Kaliska Airport Waypoint Hud: maps.secondlife.com/secondlife/Frasier%20Island/195/166/23, Frasier Island, 180
General facilities
Cafe and boat dock
Motor boat, kayak and horse rezzers
Small terminal
x6 Hanger rentals
x7 Tie Down rentals
GTFO Wharf on the Southern shore
Images
Community content is available under
CC-BY-SA
unless otherwise noted.