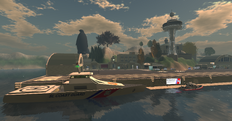 SLCG Station Abbotts Field
Category: emergency station base.
Region: Abbotts.
Continent: western Sansara.
Background
Second Life Coast Guard Station Abbotts Field is located within historical Abbotts Airport and scenic region. It has access to the airport runway and includes main building, mooring area for SLCG vessels and one dedicated helipad.
Staff
The staff in this station is:
Equipment
The equipment in this station is:
1x 'SLCG Sentinel' cutter.
1x 'WPB 87' patrol cutter.
Images