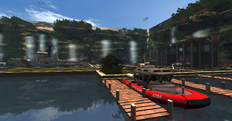 SLCG Baitoushan Station (BTS)
Category: was an emergency station base.
Region: Baitoushan.
Continent: western Corsica.
Background
Second Life Coast Guard Baitoushan Station had a ramp for seaplanes and a dock area, as well as direct access to the extensive runways of Baitoushan Intercontinental Airport (SLBA). The facility was continuously part of SLBA's premises until 2016, when the airport closed and the local SL Coast Guard Station was disbanded.
Staff
The staff in this station was:
Equipment
The equipment in this station was:
Images