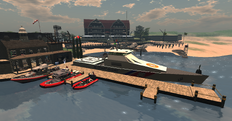 SLCG Station Danshire (DSH)
Category: emergency station base.
Region: Knaptrackicon.
Continent: central Nautilus.
Background
Second Life Coast Guard Station Danshire is home to the SLCG Sail Training Centre and has two helipads and docking area.
Staff
The staff in this station includes:
Equipment
The equipment in this station is:
1x 'SLCG Sentinel' cutter.
1x 'SLCG Cormorant' cutter.
3x training sailboats.
Images