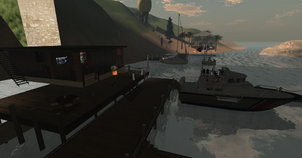 SLCG Substation Phoenix
Category: emergency station base
Region: Sialimonus.
Continent: Satori.
Background
SLCG Substation Phoenix was identified by the code PHO and was located on the eastern dock of Phoenix Airport and Marina, on the eastern coast of Satori continent.
The SLCG Substation was dismantled when the airport was closed, in late 2016.
Staff
The staff in this station was:
Equipment
The equipment of this station was:
S&W MLB-47 patrol boat
1x helipad
Images