This is a historic article about an airport which no longer exists or has been replaced.

SL Phoenix Airport - also known as SL-PHX Airport (ICAO: SLPX) was a dual-runway public airport spread across the 'Grayling' and 'Kaluga' regions of eastern Nautilus.
Landing Advisories
Background
Opened circa July 2014, SL-PHX Airport was a large, dual-runway airport with several hangars, mid-sized terminal building, ATC tower, rental accommodation, beach, and a marina. Towards the southern edge of the region was a small military annex which hosted several military jets and helicopters, as well as its own control tower. By the end of 2014, the military annex was shifted to the western edge of the complex and then removed altogether.
The main facility itself was dotted with bright lush flora for a pleasing environment and provided rental hangers and residential accommodation at the west end of the complex (most of it located in the adjacent 'Kaluga' sim). Notable attractions nearby included a recreation of the RMS Titanic in the adjacent 'Grunion' region. In May 2015, after almost a year of operation, the facility was dismantled by owner mSilverwolf Resident and replaced with the MCAS Hickam Field military airport.
Airlines
There are no longer scheduled services to and from SL Phoenix Airport, as of May 2015.
Facilities and services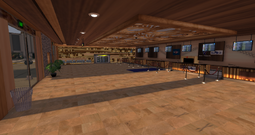 Pilots' facilities
General facilities
Mid-sized terminal building with:

x1 public gate (with jet bridge).
x5 airline check-in counters.
Passenger waiting lounge.
Café.

Marina.
Public beach.
Rental accommodation with parking facilities.
Images
See also