Introduction Edit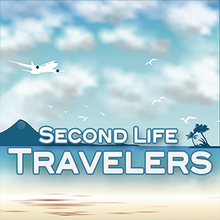 On May of 2015 several established Second Life Airlines joined to create a Group called Second Life Travelers. It's goal is to share travel opportunities with people in Second Life.
This Group has simple, but strict regulations and is moderated by people from every founder airline to support a fair interaction between members.
Note: This is a group for travel announcements only. Chat is disabled.
To join the Second Life Travelers Group, users are encouraged to use their viewer's search function to find and join the "Second Life Travelers" group, or alternatively paste the following url in local chat and click the resulting link:
secondlife:///app/group/ec1d65c1-5f99-f209-f114-32b86b42e391/about
Group Guidelines Edit
A "Travel Provider" tag to announce events in Group Chat is required and delivered upon request and moderators approval. Requirements to get a tag are: A). SL Account must be at least six months old. B). If part of an Organisation, applicants must be referred by the owner(s) of the Organisation to certify they have completed training and have been active for at least one month.
Chit-chat is closed. Group chat is open exclusively to announce events.
Announce only specific and verifiable events involving travel in a vehicle (i.e.: jet flights, boat rides, bus rides, tours, etc.).
Announcements shall not be used as a marketing technique. Mottos, group links, external links and ASCII typography are not allowed.
Timing between posts from different Users or Organisations is 0 minutes. Timing between posts from a same User or Organization is restricted to 15 minutes (post history with time stamps can be read at http://sltravelers.tumblr.com). Any attempt to disrupt Group interaction with Travelers will result in the airline losing their "Travel Provider" tag.
Keep announcements generic, simple and concise. Adjectives are not allowed in events descriptions.
Last or final call announcements are not permitted. Your motto and ideas about tips and turning off AO's are up to you at your location.
Announcement Formats Edit
Participant Airlines Edit
Air Pukalani
Avatair
Bluejet
Dragon Air
Eagle Air
Falcon Air
Gennek Airlines
Paraside Airlines
Unity Airlines
Vertical Air
X-clusive Airways