This is a historic article about an airport which no longer exists or has been replaced.

Slapdoogle Regional Airport (ICAO: SLSR) was a public single-runway airport in the 'Slapdoogle' region of central Nautilus. The airport was set in a pleasant country setting with green rolling plains and foot hills surrounding it, with easy access to the Nautilus road network and sandy trunks beach.
Slapdoogle Military Airfield was located 700m above ground level for military pilots with armed aircraft. The airfield was also home to a military aircraft training facility.
Landing Advisories
Background
2013 rebuild
In August of 2013 Slapdoogle Regional Airport re-opened after being previously abandoned and began extensive renovations which temporarily reduced the airport to a simple single-runway airfield. By late 2013 the airport re-opened with a new runway, several rental hangars, ATC tower, small terminal building, and an underground monorail system linking passengers to Route 14 of the Linden Department of Public Works road network (at the airport's main entrance). Due to increased griefing activity, pilots who did not rent a hanger at the airport were requested to make use of SRA's courtesy 'Rez Hanger' across the tarmac from the terminal. Tenants were allowed to rez freely throughout the airport. There was also an airship platform available at 500m reserved for airships, blimps, balloons, and ultra-light type air vehicles. To reach the airship platform, pilots were asked to follow the signs at the main terminal train station.
Slapdoogle Regional Airport was put up for sale in October of 2015. As of October 21, 2015, the airport is now closed and gone.
Airlines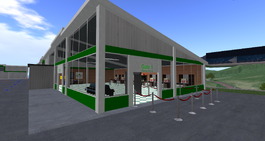 The following list includes all scheduled airline services to and from Slapdoogle Regional Airport circa August 2015. Other non-scheduled charter flights may have been available on request.
Facilities and services
Pilots' facilities
General facilities
Terminal building with airline check-in counters.
x5 Rental hangars.
Internal monorail system.
Access to the Route 14 LDPW motorway.
Images
Community content is available under
CC-BY-SA
unless otherwise noted.