This is a historic article about an airport which no longer exists or has been replaced.

RAF Tsurington Aerodrome (ICAO: SLTS) is a small public airfield located in the 'Tsurington' region of southern Nautilus, immediately north-west of Nautilus City. The facility is a themed Post War Era Aerodrome designed exclusively for light propeller aircraft.
Landing Advisories
Non-Conventional runway material. Runway composed of concrete sectional blocks. Runway marked and Distance markers are lit.
Visual approach slope indicator or Tri-Coloured VASI in use Amber=Too High, Green=Correct Path, Red=Too Low.
Length 630ft X 65ft Width (192m X 20m) with additional 39ft (12m) clearance each side of marked runway.
Runway Elevation 131ft (40m) or 65ft (20m) above Sea level.
Runway Approach Bearing 280° @ 227m S-N, Take-off Bearing 10°
Originally designed in the 1930s & exclusively for light prop engined aircraft to a maximum size similar to the DC-3 or C-47, the modernisation of the runway during the 1960s to concrete, further allowed the use of light jet engined aircraft.
Background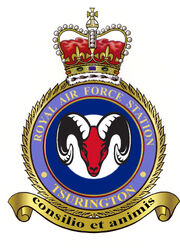 RAF Tsurington is a themed Post War Era Aerodrome designed exclusively for light prop aircraft. Although jets are not allowed at any time, helicopters may stop temporarily to refuel at the Aerodrome. It's a good place to refuel or take a time out to relax on the observation terrace after sampling a cocktail in the Lemon Drop Martini Lounge Bar during your travels over south of Nautilus.
Originally designed for light prop aircraft only during the 1930s era, with a criss-crossing layout (runway 09 for take-off and 27 for landing, with the shorter runway 11 / 29 only for emergency use), the airfield's runways were rebuilt in the 1960s with a new single 192m x 20m concrete runway design, making it now suitable for light jet engined aircraft also.
Squadrons
HM Coastguard RAF Tsurington Division operated by gridnet™ Consortium
Official Resident Airlines
Operating from its main terminal you will find the airports residential airline operators who offer passengers a regular classic travel service across the continents adjoining Nautilus region. One of the main contracted operator services is the subsidiary company of gridnet™ airways known as YELLOW AIR TAXI who are offering a business style Air Taxi Shuttle service to any sized & accessible airport from RAF Tsurington Aerodrome, these airline operators listed below are the only official airlines currently offering a regular service from the airport.
Un-Official non-resident Airlines
The following list includes all non-scheduled services to and from Tsurington Aerodrome, as of June 2016. Other non-scheduled charter flights may be available on request. Please contact airlines for more information.
Facilities and services
Pilots' facilities
Aviation Fuel Area(DSA, Terra, TBM, AvA fuel).
ATC service: the owners made the ATC service, preferably via GridTalkie, a some hours a day.
HM Coastguard Search and rescue (SAR) Base operational on GMT Timezones monitoring GridTalkie, 117.900 MHz, and Shergood Aviation ATC Radar ELT service.
SL Civil Air Patrol station, monitoring GridTalkie, 117.900 MHz, and Shergood Aviation ATC Radar ELT service.
General facilities
x20 rental hangars & tie-down spaces various sizes.
x4 rental Airline Desks.
HMCG Station Base operated by gridnet™ consortium.
SLCAP Substation Tsurington, operated by SL Civil Air Patrol
AIR Taxi Shuttle Service.
Residential Pilot Training School.
Mid-sized terminal building with:

Passenger Rooftop Viewing Gallery and Café.
Shops/vendors.
ATC tower building
Images