We're Getting Mutants in the MCU - The Loop
Play Sound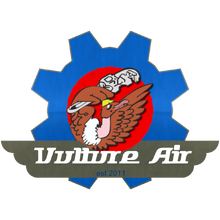 Vulture Air is a non-commercial virtual airline in Second Life®. VA serves the Second Life® Grid with commuter travel between regional airports in the Blake Sea, Nautilus, Corsica, and Satori continents. Vulture Air also owns a subsidiary company, GridEx, which specializes in shipping role-play services.
History
Born from 'Vulture Gear Shipping & Salvage' on the sooty shores of Port Babbage in 2011, Vulture Air has grown into one of the oldest and largest airlines in Second Life.
The airline now operates a "pay what you want" system where tipping is encouraged but not required. Scenic tours, personal and group charters also continue to be available.
During June 2014 Grid Airlines and Vulture Air announced "Vulture Connection," an extension of the Vulture Air brand, operating on the Sansara and Heterocera Atoll continents by Grid Airlines. Grid Airlines operate flights for Vulture Connection on its already established routes. During the same year, Vulture Air became the premium carrier for Tastemaker's Travel offering airfare and support for their Premium Travel Club and other travel services. On June 30th 2015, airline management issued a press statement which confirmed that Sophi Moore Charter Services had been bought by Vulture Air and would be merged with it's air division effective July 1st 2015.[1]
Destinations
Airports in Second Life® served by Vulture Air include:
Fleet
As of March 2016, the Vulture Air fleet includes the following aircraft:
Boeing 737 (Dani)
Airbus A318 (Dani

Sikorsky S-70 (S&W)

Bell 429 (S&W)
NH-90 (S&W)

Kamov KA-29 Helix (S&W)

Model 10 Electra (DSA)
Lockheed Vega (DSA)

X-Wind Socata 850

X-Wind Duke

Bell/Agusta BA-609 (Shana)

Sikorsky S92 (Shergood Aviation)
References